August 14, 2013
All Tied Up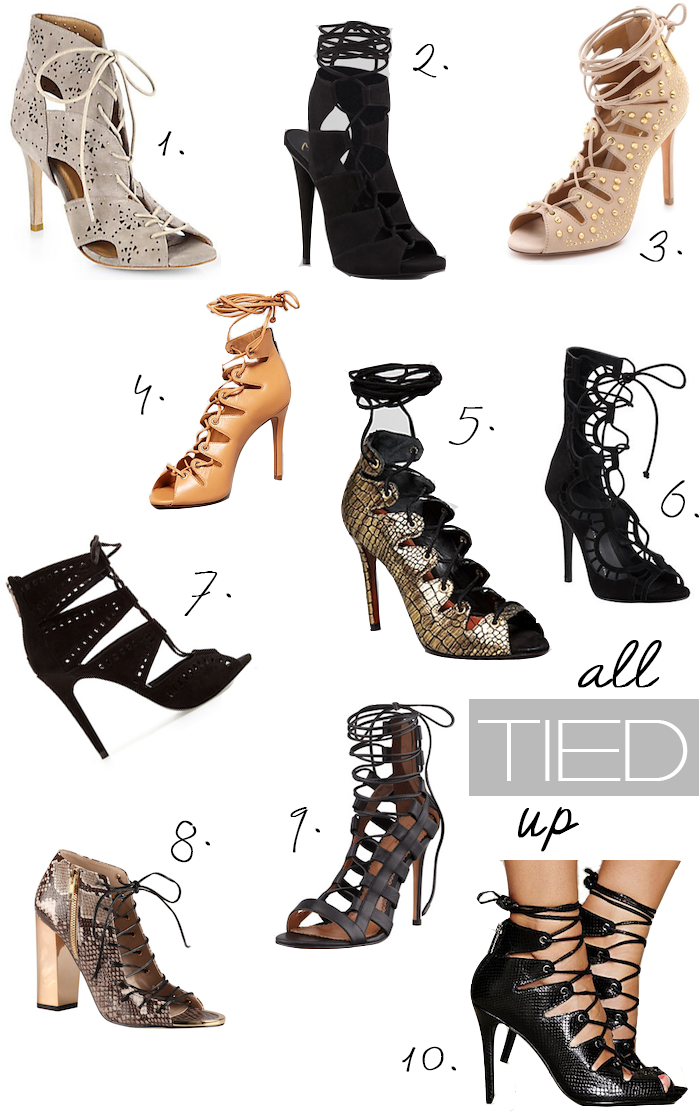 1. Joie Raquel cutout sandal  |  2. Giuseppe Zanotti side lace sandal  |  3. Schutz Arieli lace up bootie  |  4. Schutz sunkiss lace up bootie  |  5. Schutz slate lace up bootie  |  6. Giuseppe Zanotti (one of the originals that kick started the hunt)  |  7. Zara (previously on sale)  |  8.  Aldo cori snakeskin sandal  |  9. Aquazarra amazon sandal  |  10. Schutz matte snake lace up bootie
Even though summer is winding down, I cannot get enough of lace up heels. They're the right amount of polished and sexy and can be dressed up with dresses and mini-skirts or dressed down with boyfriend jeans, a t-shirt and a baseball cap even. I've been on the hunt and thought I would share my favorite finds!
One of the downsides to being "a little nugget" as my friends say, is that I have little feet that are hard to find shoes for. I made a rule for myself that if I find a pair of shoes that I like that are in my size AND on sale, I have to buy them. It's way harder to find a size 5 than you would think… especially when certain brands *LOUD COUGH ZARA & SCHUTZ* carry amazing shoes that are perfect for satisfying trends without breaking your wallet and do not make shoes that fit you. Sigh.
Lucky for most of the rest of the world, my hours spent digging for amazing  shoes will hopefully pay off for you. If you end up snagging any of these leave a comment!

 SHOP THE POST: