August 10, 2017
Creating Serenity At Home
Life is, as I like to say, very full. These days especially.
Between summer activities and trips, weddings, visiting family, and making time for friends and catch ups it can be extremely tough to find time to actually relax and unwind.
My mind is usually racing from the minute I wake up until my head hits the pillow on all of the things I have to do that day, week or in preparation for other things. Lately to be completely honest my mind has been on much more important things happening in my life – we're preparing for our trip to Korea and with that has come a lot of very personal feelings and emotions.
I've come home from work feeling drained and overwhelmed a lot of days recently and just wanting to feel for a little bit like I don't have a million things piling up in my head and on my mind.
When we started decorating our apartment we really wanted to create a space where we felt at home and that had a peaceful, comfortable vibe to it. It was especially important for it to be a place that we were excited to come home to. While that can usually be defined by furniture, colors, and textiles, now that we're settled it's enhanced with additional touches that really make it feel extra home-y and calm.
MG and I love candles – probably a little too much! We light them year-round and love scents that are refreshing and light and also the occasional seasonal scent. We only had a candle or two from my old apartment when we moved in and we've been slowly building up our collection.
I've found that there are a few things that really help me calm my body and mind at the end of a long day – a little hand massage and lighting a candle while I work or read. That and a huge glass of red wine on occasion are the few things that really help me take my mind off of the day and enjoy some quiet moments at home.
I've had Capri candles in almost every apartment I've lived in. They're actually carried all over – you've probably seen them at Anthropologie because that's where I first discovered them years and years ago. I love them because they last forever, smell divine, and always have beautiful packaging and jars. It's as much about the decor of the candle as the smell in a lot of cases and for me Capri really nails both.
We recently added new scents to each room to help us wind down and bring a sense of serenity to the entire apartment:
IN THE BEDROOM
Pink Grapefruit and Prosecco gilded jar  •  Volcano 06 hand cream
On my nightstand you'll always find a large candle (in this case Pink Grapefruit & Prosecco – one of my favorite scents and in the prettiest jar!), hand cream (I love Volcano, it's one of their signature scents and is light and beautiful), my sleep mask, and either a book, iPad or sometimes even my computer if I'm working late.
I always have hand cream near, especially in the winter, because there's something so soothing to me about giving yourself a little hand massage when you're getting ready for bed. I also have notoriously dry hands and skin and am always trying to remedy.
IN THE LIVING ROOM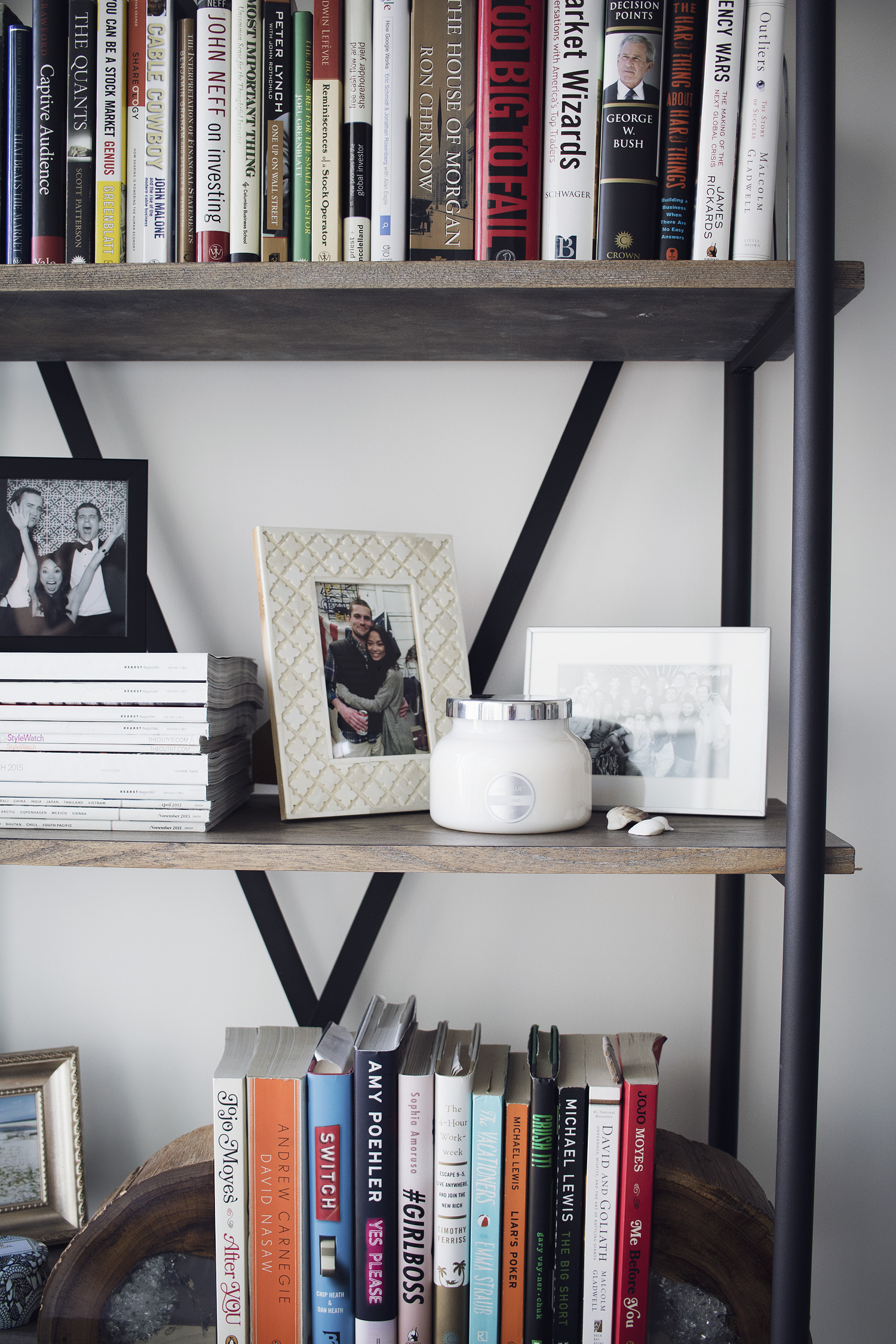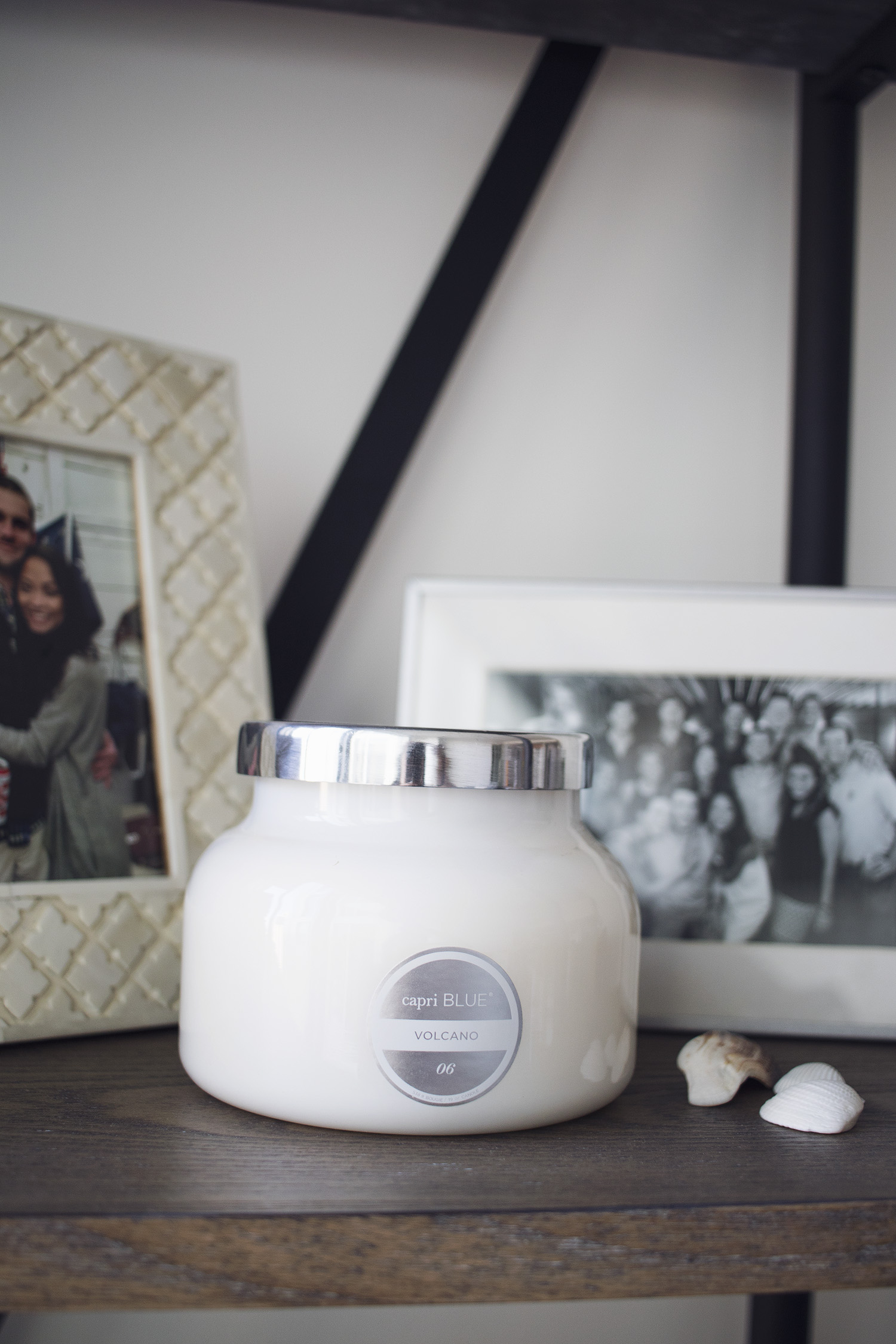 Our bookshelf is always growing – usually more thanks to MG than me these days and I always like to keep a candle or two in the waiting rotation up there that looks pretty with the books and that we're saving until we've exhausted the current one.
I love this classic white jar because it goes with our neutral apartment and stands out among the colorful books on the shelf.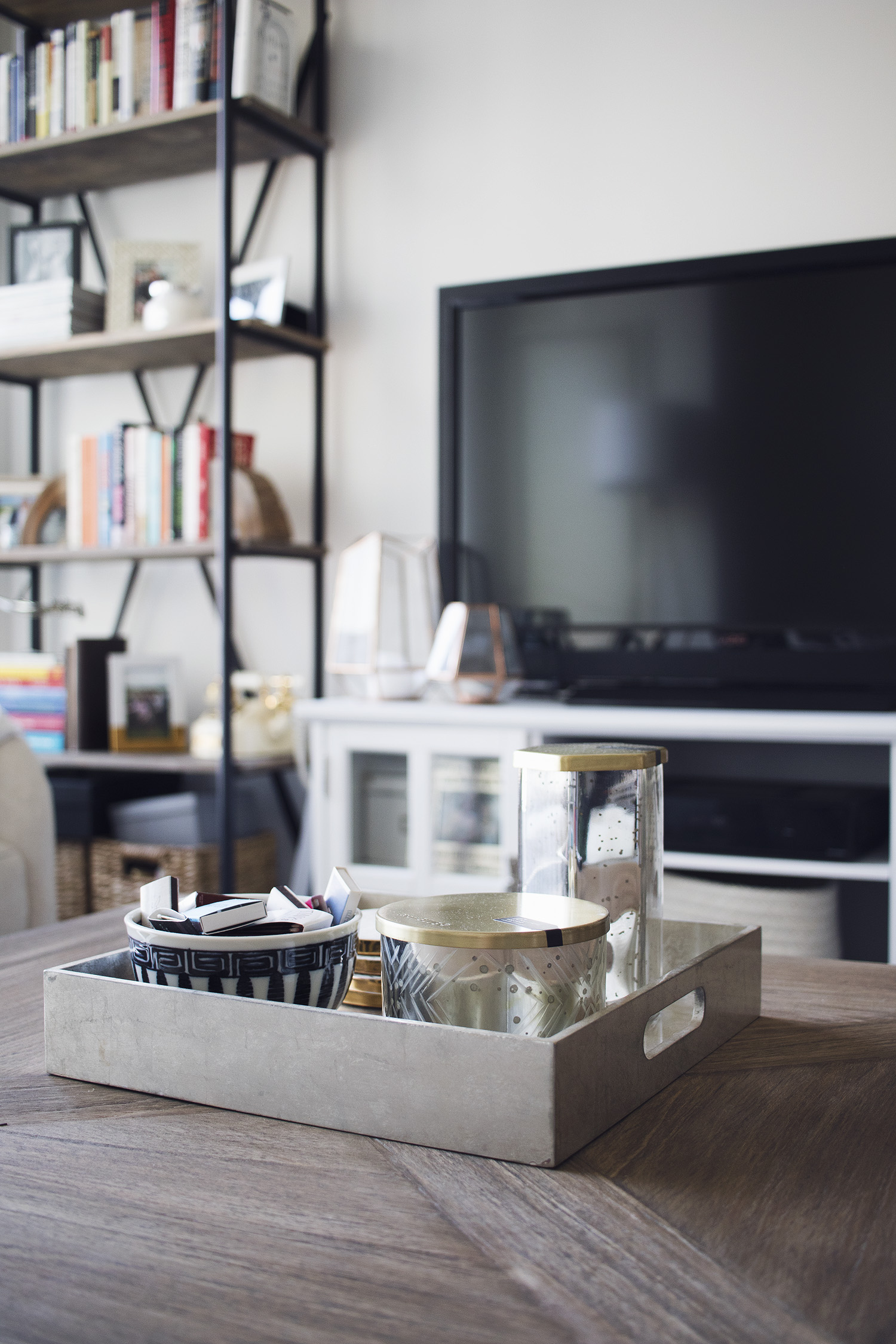 Volcano candle bowl  • Rain hexagon candle
We spend the most time by far in the living room most nights. I'll be working usually and MG will be playing Sudoku or reading, and even though we're doing our own thing we like to sit together after we've caught up on our days and eat.
I love to light a candle while I work. There's no science to it, but I swear it helps me be a little more creative. It's so nice to turn the lights down and just have a lamp on and the candle and enjoy the sunset while we both settle in from the day. I keep a tray on our coffee table for coasters, candles and matches – the essentials. I'm not a big fan of clutter when it comes to the coffee table and so keep our coffee table books in the media console.
These jars not only pair beautifully together but also with our decor in the apartment. They almost match our side table by the window perfectly! I love that they come in different sizes and actually lighting both together smells amazing. Rain is another one of my favorite calming scents.
How do you create serenity at home?
SHOP THE POST
This post was sponsored by Capri candles! As always all opinions are my own.