April 4, 2014
Best Of: Leopard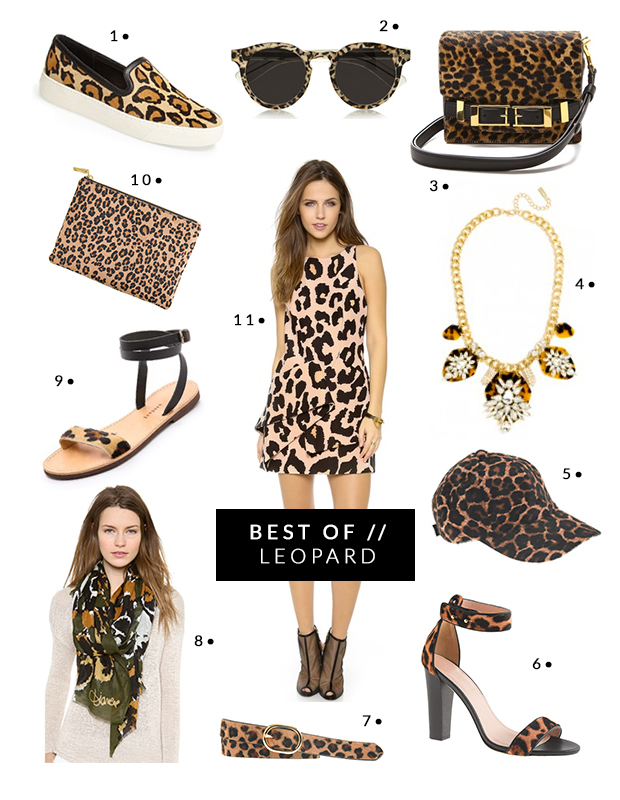 It's the weekend! I've been looking forward to this one for a while because my parents are visiting from Texas and they haven't seen my new place or met a lot of my Chicago friends, so I'm really excited! We have a few fun things planned and there will per usual be some delicious food devoured, but mostly I'm just looking forward to spending some quality time with them in person and in my favorite city.
Being the print lover that I am, surprisingly leopard took a while to grow on me. When I moved here I only had a leopard umbrella and one pair of leopard booties, but I lost the umbrella in a cab in the first month so I was really devoid of this fan favorite animal print for a while. I slowly added a piece here and there… a belt, a pair of flats, a blouse, another blouse and now have a handful of leopard accessories. I have my mom to thank for getting me into this one as she's always found a tasteful way to incorporate it into her style and our home. If you style it in a simple way, it can really serve as a neutral in an outfit.
J.Crew has a ton of great leopard goodies right now and the heels ($6) are 25% with the code SHOPNOW! If you're new to the site, welcome! and just so you know I post a "Best Of" round up each week in case you want to take a peek at past ones for a little weekend shopping. Have a great weekend and hope you're enjoying some beautiful weather!
SHOP THE POST & MORE LEOPARD